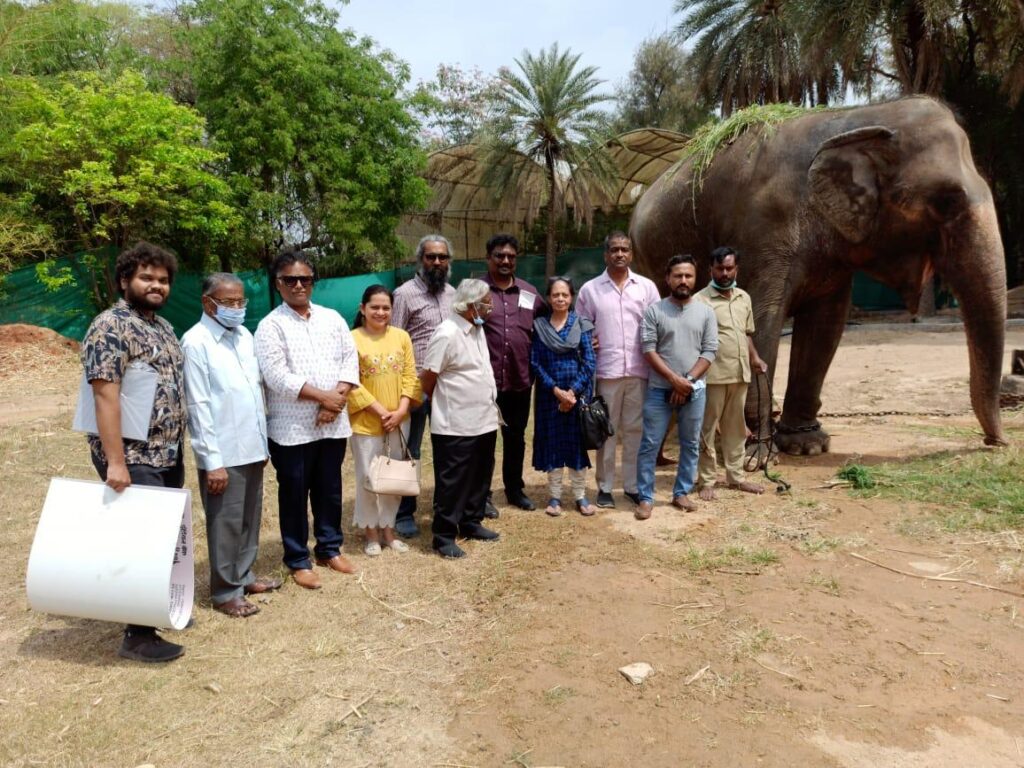 Gaja – A whole lot of love for the elephant
Bolgum Nagesh Goud has painted several elephants ever since he worked alongside Maneka Gandhi at the Elephant Sanctury at Mathura, some years ago. This prompted him to conceptualize and curate this show of painted elephants. This show took place with 26 artists in January this year at Hyderabad but bringing it to Bangalore was put on hold due to the pandemic. With social distancing norms still in place a slightly amended version of the show is now available on Crimson Art Gallery's website www.crimsonartgallery.com
Nagesh creatively designed the elephant and cast it in polyester resin fiberglass .He then distributed a piece to each of the participating artists who painted it in their own unique style endowing Gaja with meaning and purpose.
The show's proceeds will go towards funding a year's upkeep for the Hyderabad youngest 35year old elephant Sita. The artists are really kicked about this and all of them agree that Sita has been an inspiration to them all.
To Gouri Vemula, Gaja is Ganapati. She has embellished her elephant with copper and sheet metal simultaneously using Zodiac signs as a mark of celestial celebration.
D L N Reddy's elephant has progressed into a form of semi-abstraction as hemanaged to create effects and moods in recurring patterns.
Nagesh Goud's  "Line" is intricate and lyrical, bold and sensitive as it carves out the silhouettes of the elephants and then turns inside the background to define the details in a specifically aesthetic and creative manner. The huge, soulful, almond shaped eyes are the single most prominent feature of his portraits and he has used this feature on Gaja too.
Priyanka Aelay's intricately detailed work encompasses a forest at nightfall with the animals and birds scampering for shelter from the menacing clouds.
And though Rajeshwar Rao refrained from the formal narrative or story, Artist Saraswathi has painted Radha Krishna from her own imagination with lots of designs in unusual colors, lots of blue symbolizing Lord Krishna, blue being the colour of love.
Sreekanth Kurva has struck a chord with his viewers through rendition of animal portraits for the past several years. He gave vent to his expressions and adorned Gaja with the finest silks and brocades making her awe-inspiring.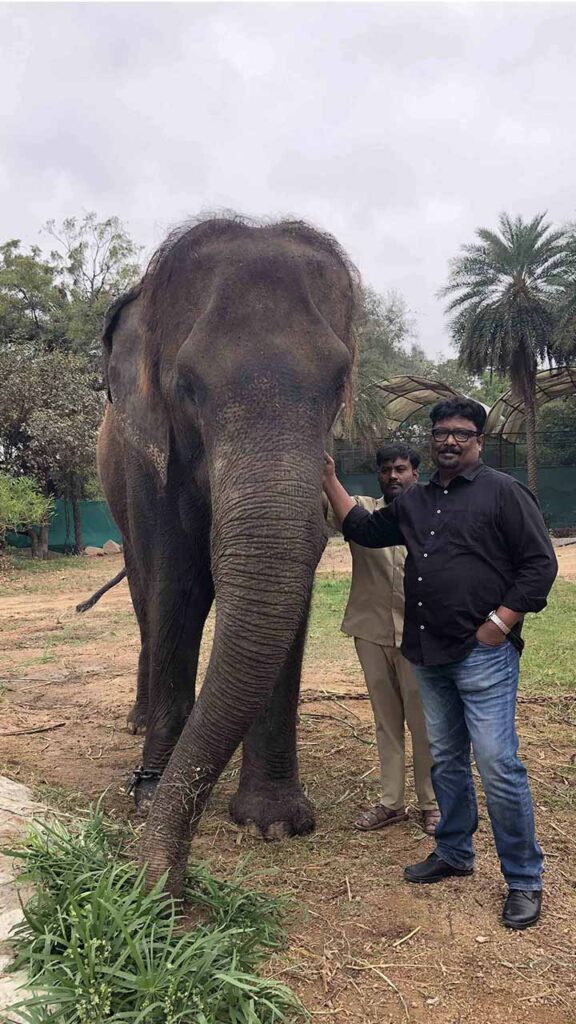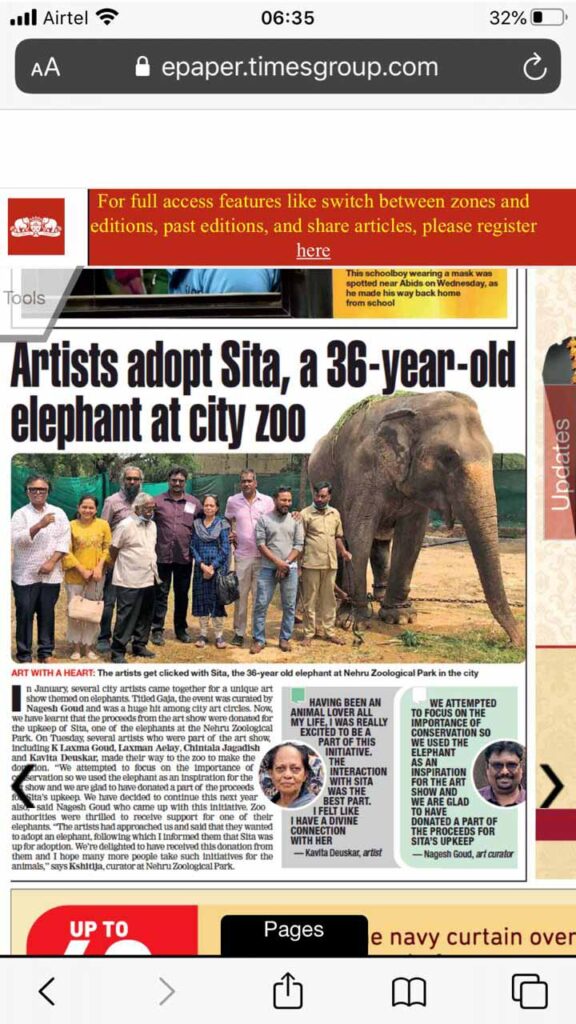 Gaja
Elephasmaximus, the Asian elephant which is regarded as one of the finest animals  and an embodiment of Indian ethos is now deprived of human attention in the convoluted fabric of urban modernity. Gaja, the Indian personification of abundance, strength and fertility, has been a celebrated animal in the historical, mythological and ayurvedic contexts and metaphorically attributed with royalty and wisdom. For a few others, it is representative of feminine beauty associated with fertility and affluence. The historicity and semiotics of the animal may fascinate us deducing various ascription and connotations of the animal and its inevitable presence in the cultural practice of the antiquity that may be traced back to later Vedic era. However, in modern times, the Gaja is being divorced from human habitation by not only pushing further down to theperilous terrains but also exploiting it for unlawful traits. In this context, a few philanthropists urge the humanity to help conserve and protect elephants from the numerous threats they encounter and to create awareness about the predicaments of the royal animal. The World Elephant Day (August 12), initiated seven years ago, makes effort to bring the world together "to bring attention to the urgent plight of Asian and African elephants". With this exceptional cause, in solidarity with the great initiation, the unique art exhibition of three-dimensional painted elephants, which are  created in fiber-glass medium, by 25 established artists is showcased with an intention to disseminate empathy towards one of the most lovable entities on this planet.
Curator's Note
Exhibition of three-dimensional painted objects may be a common practice for artists in general but the one which is planned by artists based in Hyderabad is intended not only to show empathy towards animals but also blurs the disciplinary boundaries and conventional institutional practices. From the past decade, it is apparent that commercial art galleries are compelled to persuade artists to re-create artistic objects with utility or three-dimensional art forms or at times, seek for painted furniture divulging new aesthetic modes catering to the mundane needs of art lovers. Not surprisingly, even painters started creating their stylized sculptures, if not for the  purpose of a particular commission, in order to explore new ways of expression and reaching out to enthusiastic buyers. Besides this, several charity shows, art jamborees, art camps and quick auctions for a particular cause have been a new phenomenon that eases the artistic conformity and flexibility in making and marketing art.
During the fiscal recession, the idea of charity shows enabled the art galleries not only to survive in the market but also gave an opportunity to raise awareness about several philanthropic enterprises and their credible contributions. Thus, the initiatives of charity through visual art may be redefined not as a mere contribution with an artistic possession, nor an act of kindness, but as an effort to create awareness by organizing events sending across the message through visual traits. Although, the art for charity is largely limited to non-State activity, it reiterates our  conscientiousness towards our own world and allows us to intervene in the endeavors of a State. This particular show engages artists to extend their making on a visual surface with restricted uniformity, both in terms of the size and the form, for a greater purpose. A bold three-dimensional  form of an elephant is cast into multiple pieces and circulated among the selected artists, who wished to contribute to a cause. This is an opportunity, if not a challenge, for any artist who often tends to confine to a sort of artistic realm and it may predispose individuals to experiment with the very uniformity. Notwithstanding the homogeneous character and the limitations, the artists have reacted to the 'intended' effort and came up with heterogeneous creations.
The artists dealt with various issues related to the susceptibility in an urban context emulating conflicts in the ecosystem and the chaos of human life. A few tried to locate the Gaja in the context of myth: as a royal animal and in warfare, where as a few artists represent the Gaja as a symbol of progenity and religiosity. However, some artists distance themselves from narrativity by incorporating formalistic aesthetics, exploiting nuances from the modernity and the nature, while negotiating with indigenous forms and hybrid visual vocabulary.
What emerged from this effort is a fresh approach, at least in dealing with medium, and a greater  enthusiasm in the incorporation of imagery that delineate the cause. The whole set of artworks might not necessarily demonstrate path breaking visual languages, yet are very assertive and attractive with distinctive artistic expressions.
As this has been my dream project for a decade, it all started from my own practice. I have painted elephants working closely with Maneka Gandhi for the Elephant Sanctuary in Mathura, through Art Alive Gallery New Delhi. This prompted me to design and conceptualize the show of painted elephants, whereby developing a unique form of the adorable animal. I am glad that all the artists responded to the show, however, I have selected artists based on my subjectivity. I thank all the artists for their consent that a part of the sale proceedings of the exhibition will go to the above-mentioned cause.
At this juncture, I thank all the artists who participated in the show and supported the cause. My special thanks to Padma Shri K. Laxma Goud for his constant support and also all the senior artists who believed in me. I recall my association with Late Surya Prakash ji, who was also part of this show but unfortunately we all will miss him. I am immensely grateful to the Art enthusiasts based in India and abroad who appreciated the art and helped me in meeting the purpose. I am indebted to Ms. Anju Poddar ji and the dynamic Sheetal Bangur, who helped me throughout the logistics.
I am privileged to have friends like Manvinder Dawer, India Fine Arts Mumbai and Dr. Laxman Aelay who shared their valuable time in putting up this exhibition. I thank Ms. Palak Dubey for the suitable title and sub-caption, and extend my gratitude and appreciation to Dr. Nirmala Biluka and Anand Gadapa for the text and editing. I am deeply indebted to all those who helped me put this show together and I wish to take further endeavours on a national platform.
Last but not the least, I appreciate Gyani and Sai Aditya for excellent photographic skills, Akkiraju Ramana for rendering the beautiful catalogue and Rudra Graphics Pvt. Ltd for printing
Bolgum Nagesh Goud,
November, 2020